The original Liko Lehua flavor that started it all: Lilikoi or Passion Fruit Butter. Nicknamed "LIQUID GOLD" by our fans - get ready for an explosion of ripe passion fruit and the perfect blend of sweet, creamy, tart richness that defines Liko Lehua. The only limit for our Lilikoi Butter is your imagination!
Regular price
Sale price
$10.80 USD
Unit price
per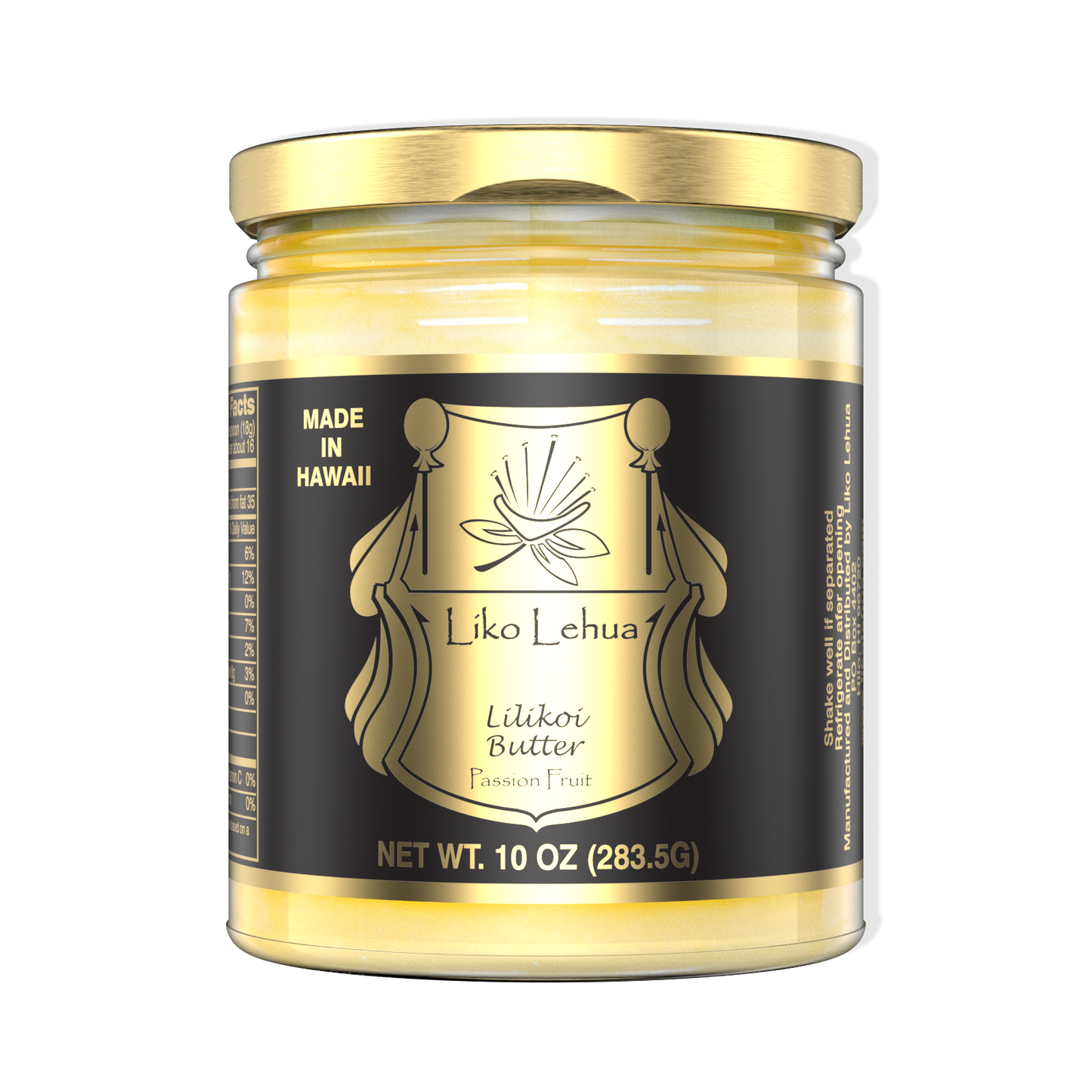 Good quality, delicious
This took my waffles and pancakes to another level. Shipping was quick and price affordable. Shipment was well-packaged and the shipper left a cut Le note inside. Will definitely replenish when my supplies run low! Thank you for shipping to my locale
I didn't know about Lilikoi Butter and now it's my favorite butter!
Liko Lehua's Lillikoi butter is so delicious! It really brightens up anything you put it on. It's not overly sweet and a little goes a long way! I've used it on toast, King's Hawaiian rolls, and pancakes. I highly recommend everybody to try it. It has really changed my outlook on life, it's that good!
Liliko'i Butter♥️
I love Liko Lehua Liliko'i Butter!
I spread it on warm toast almost every morning. Just Devine. I also use it on desserts like cake, cheese cake and pastries. Very spreadable and easy to use.
Shipping was quick and product was well packed. Will order again.
F.A.Q.s
Liko Lehua Butter is the perfect addition to pancakes, bagels, ice cream, marinades, sauces, cheesecakes, salty or spicy foods and anything breakfast. Use it as a dip. Warm it and pour it on cheesecake and ice cream. Or put it on your partner… don't worry its edible!
Liko Lehua Butters are handcrafted daily using local ingredients to ensure that every jar is ono (delicious). We hand pour, cap and label in small batches to ensure quality, freshness and flavor.
All of our gourmet butters are 18 months shelf stable. If the butter makes it past round one, make sure to store them in the fridge!
If you're on Hawaii Island come and visit our store, Liko Lehua Café or Liko Lehua at the Farm in ʻŌlaʻa.