Pineapple Butter - Liko Lehua Fruit Butter
Gluten Free
Natural Ingredients
Made with family-farmed fruit
Made in Hawaii
Small Batch
Regular price
Sale price
$10.25 USD
Unit price
per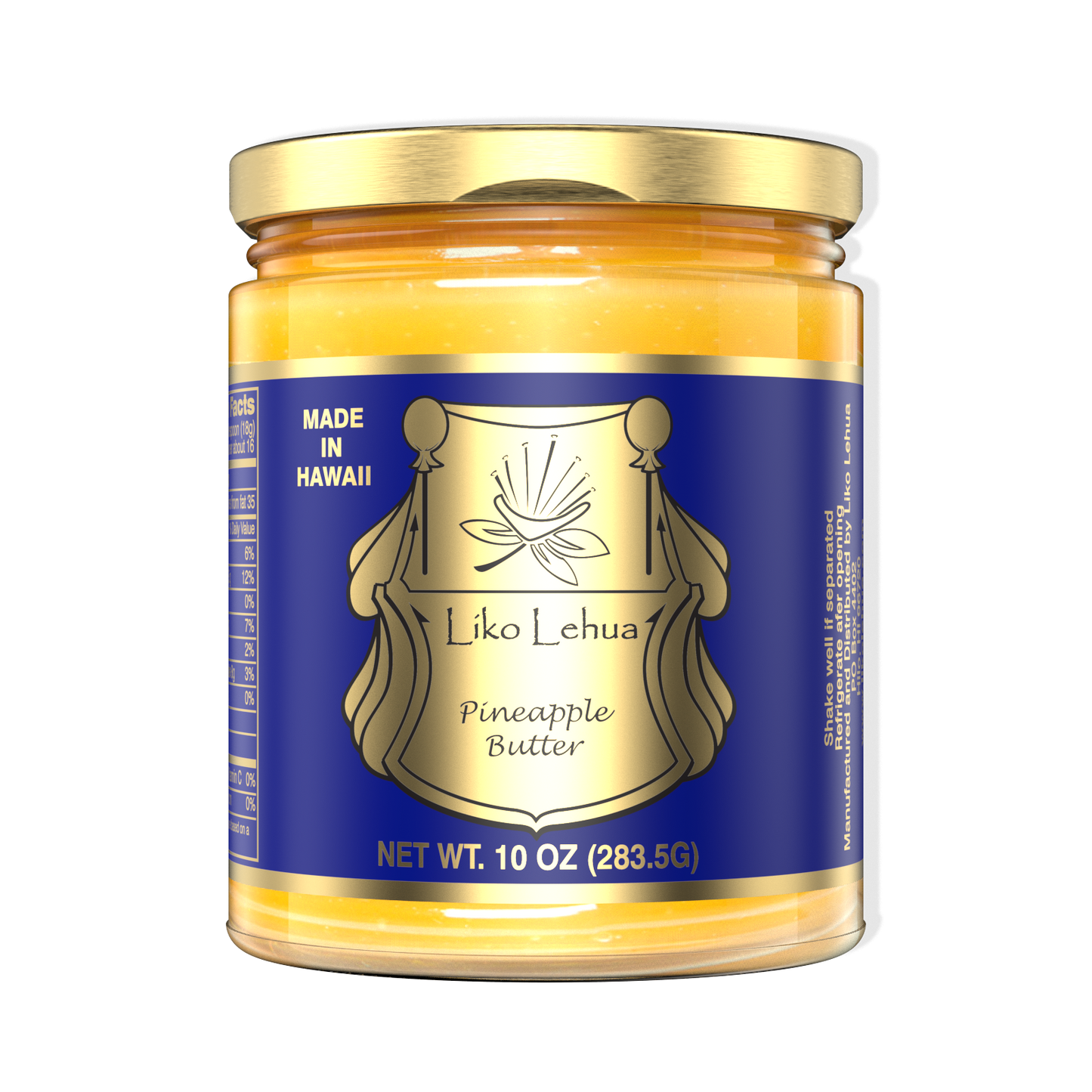 Fantastic Tropical Fruit Butter
Liko Lehua's Pineapple Butter is out-of-this-world delicious, like all of their other fruit butters!
Love, love, love this butter. Great shipping too.
We live on Island 6 months a year, and I got hooked on all the Liko Lehua butters. They have so much flavor and spread well on my english muffins. When we are on the mainland and I'm out, I have it shipped, and they do a fantastic job wrapping them well. 6 to a box is perfect. Trust me, you'll be glad you ordered plenty. Mahalo 🌺
very delicious
This butter is so delicious I love it
At my cafe, I'm making pancakes using this butter.
Pineapple Butter Deliciousness
The Pineapple Butter is seriously delicious. It is so smooth and creamy. The best quality butters I have ever tasted! The flavor is absolutely amazing. It is the best addition to toast. I also love that it only has 7 carbs per tablespoon which is way more than you need on toast because it packs so much flavor. My niece has type 1 diabetes and this is a treat that doesn't spike her blood sugars and still feels like she is indulging. Thank you for this delicious product!!!
F.A.Q.s
Liko Lehua Butter is the perfect addition to pancakes, bagels, ice cream, marinades, sauces, cheesecakes, salty or spicy foods and anything breakfast. Use it as a dip. Warm it and pour it on cheesecake and ice cream. Or put it on your partner… don't worry its edible!
Liko Lehua Butters are handcrafted daily using local ingredients to ensure that every jar is ono (delicious). We hand pour, cap and label in small batches to ensure quality, freshness and flavor.
All of our gourmet butters are 18 months shelf stable. If the butter makes it past round one, make sure to store them in the fridge!
If you're on Hawaii Island come and visit our store, Liko Lehua Café or Liko Lehua at the Farm in ʻŌlaʻa.